Introduction to Coffee is a perfect course for individuals venturing into the realm of coffee for the first time.
Covering the entire coffee journey from cultivation, roasting, and brewing to the art of tasting, this course offers a comprehensive understanding of coffee's supply chain. It also features an intriguing "coffee cupping" session, allowing you to savor the diverse and intricate flavors of coffee.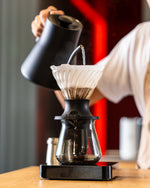 INFORMATION
What will you learn?
COFFEE KNOWLEDGE: explore the rich history of coffee and its cultivation in various regions worldwide.
COFFEE BEANS & QUALITY: understand the nuances in coffee bean types and how they affect the quality of your brew.
ORIGINS & PROCESSING: dive into the origins of coffee and the various methods used in processing beans to create unique flavors.
BREWING METHODS & FLAVOR: discover different brewing techniques and how they influence taste and flavor profiles.
More Information:
Location: Dubai Branch: Al Quoz Industrial Area 3.
Languages: English
Dates: Select the desired date before adding to cart. The course starts at 10 am. We will contact you for more details.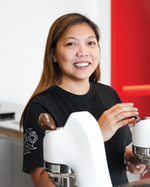 MEET THE INSTRUCTOR:
TESSA
She has been part of the Blacksmith family almost since the beginning and has grown substantially along with the brand. Inspired by her trainers and mentors, becoming an Authorized SCA Trainer is a dream come true for her. She has already trained over 400 baristas that are currently working in the coffee industry, providing them with a solid foundation and key knowledge.