This engaging course offers learners an in-depth exploration of the world of coffee, delving into the nuances of coffee variety, origin, and processing methods and how they influence flavor. Participants will also dive into the intricacies of adjusting brew recipes by considering factors such as coffee quantity, grind texture, water quality, and shot time. Additionally, the course covers topics including drink preparation and flavor distinctions, efficient workflow management, sensory aspects of espresso extraction, milk handling techniques, and the art of crafting latte art.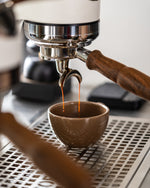 INFORMATION
What will you learn?
COFFEE KNOWLEDGE: gaining insights into coffee's origins, processing methods, freshness, and roasting profiles.
ESPRESSO EXTRACTION: acquiring skills in precise dosing, even distribution, and expert tamping, as well as the art of espresso profiling and crafting a menu.
MILK TECHNIQUE: Dwelve into milk composition, refining milk steaming and texturing techniques, and honing advanced latte art skills.
WORK SPACE MANAGEMENT: exploring hygiene and safety protocols, mastering fundamental customer service, and understanding machine maintenance.
More Information:
Location: Dubai Branch: Al Quoz Industrial Area 3.
Languages: English
Dates: Select the desired date before adding to cart. The course starts at 10 am. We will contact you for more details.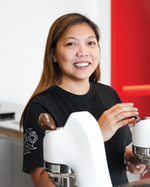 MEET THE INSTRUCTOR:
TESSA
She has been part of the Blacksmith family almost since the beginning and has grown substantially along with the brand. Inspired by her trainers and mentors, becoming an Authorized SCA Trainer is a dream come true for her. She has already trained over 400 baristas that are currently working in the coffee industry, providing them with a solid foundation and key knowledge.