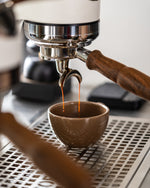 INFORMATION
What will you learn?
Espresso Brewing: Master the art of pulling the perfect espresso shot.
Milk Frothing: Learn to steam and froth milk for lattes and cappuccinos.
Bean Selection: Understand coffee beans, grind size, and freshness.
Tasting and Sensory Analysis: Develop your palate for coffee flavor.
Equipment and Accessories: Choose the right tools for your setup.
Troubleshooting: Identify and fix common coffee issues.
More Information:
Comprehensive course materials, including a detailed brewing guide.
Receive a complimentary bag of coffee.
Receive a certificate of achievement upon successfully completing the course.

Location: Dubai Branch: Al Quoz Industrial Area 3.
Languages: English
Dates: Select the desired date before adding to cart. The course starts at 10 am. We will contact you for more details.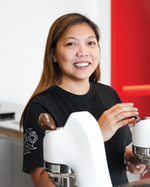 MEET THE INSTRUCTOR:
Tessa
She has been part of the Blacksmith family almost since the beginning and has grown substantially along with the brand. Inspired by her trainers and mentors, becoming an Authorized SCA Trainer is a dream come true for her. She has already trained over 400 baristas that are currently working in the coffee industry, providing them with a solid foundation and key knowledge.